Adult Education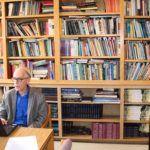 Wednesday Evening Adult Education
We now have adult education three Wednesdays a month. The first and third Wednesdays, Aric Agmon teaches Hebrew to adults from 5:30 PM to 7:00 PM. The second Wednesday of the month, Rabbi Joe teaches a variety of subjects from 7:00 PM to 9:00 PM. On March 13 we met some "Offbeat Jewish Heroes" and on April 10 we enjoyed "A Brief History of Chutzpah."
In May and June we will focus on the Modern Jewish Crisis. In the 1800s the Jews seemed to be gradually assimilating into a liberalizing Europe. Antisemitism was softening even in despotic Russia, home to the world's largest Jewish population. What changed everything was the assassination of Tsar Alexander II in 1881, blamed on the Jews. Overnight, pogroms and persecution resumed, triggering experimentation with all kinds of newfangled ideologies: socialism, Zionism, Yiddishism, feminism. There was also a flood of emigration to Western Europe, stimulating increased antisemitism in those countries. Of course, some émigrés went farther, to America or Palestine.
The Jewish world of today is the reflection of 1881. On May 8 we consider the implications for the early 20th century, including the Holocaust; on June 12 the implications for the late 20th and early 21st century, including the State of Israel. Please join us for one or both sessions.
Talmud Study
On Monday nights at 7:00 PM we conduct a one-hour lay-led Talmud class. So far there are three of us who puzzle over and debate the law, and the ethical and inspirational teachings of the Talmud. No prior training or knowledge is required. We use good English translations and enjoy such tidbits as learning the derivation of the prohibition of performing certain work on the Sabbath, although it is permissible to trap a deer or a snake on the Sabbath.
On alternate Monday nights at 7:00 PM we explore guided meditation techniques contained in teachings of the Kabbalah and other sources, including books by Rabbi Zalman Schachter-Schalomi.
Adult Hebrew
Adult Hebrew is a Wednesday evening class for adult beginners and more experienced readers and speakers of Hebrew. The class is taught by Aric Agmon, an Israeli who also teaches in the TOL Sunday School. Aric's e-mail is aric.agmon@gmail.com. We use songs, poems, newspaper articles, and various other sources to learn to converse in modern Hebrew.
Hanoch Piven Art Workship
Israeli artist Hanoch Piven came to Tree of Life and conducted an adult workship in creating Jewish art.