WV Holocaust Center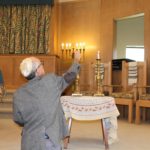 The West Virginia Holocaust Education Center
Prologue:
"Long ago, over there, far from the living, we told ourselves over and over that if we were to come out alive, we would devote every moment of our lives to denouncing by word and deed the cynicism and silence of mankind toward victims past and future. Convinced that the free world knew nothing of the cursed and evil kingdom where death reigned, we encouraged one another. The one among us who would survive would testify for all of us. He would speak and demand justice on our behalf; as our spokesman he would make certain that our memory would penetrate that of humanity. He would do nothing else. His days and nights would be devoted to telling the story. He would turn his entire life into a weapon for our collective memory; thanks to him, it would not be lost."
–And the Seas is Never Full, Elie Wiesel
The West Virginia Holocaust Education Center promotes Holocaust education and awareness programs throughout West Virginia and beyond. The concept of a Holocaust Center in West Virginia originated in one of the earliest gatherings of Holocaust survivors some 30+ years ago in Lancaster, Pennsylvania. This gathering was attended by Dr. Edith Levy, a survivor, and one of our temple members of long-standing and wife of Marcus Levy, Tree of Life Treasurer for many years.
Other states with a large survivor population had initiated the trend, so why not create a survivor support group in West Virginia? The needed support group did not materialize, for lack of survivors, but Holocaust education, and with it a Center, was created by a handful of caring individuals.
One of the earliest programs open to the public was the Anne Frank Story Exhibit at the Morgantown Public Library. The ribbon cutting ceremony by then, Governor Underwood, opened the two week activities, facilitated by the participation of over 20 Tree of Life volunteers. Since then, many of our programs have seen the participation of Tree of Life members as can be seen by the accompanying pictures.
The Center has continued for over three decades to bring Holocaust commemoration and awareness to all corners of our state. A textbook, The Holocaust in Perspective, for middle and high school students was produced by Edith Levy, and is now going into its second edition. Over the years, thanks to the generosity of book distributor Ken Schoen, we have amassed a substantial library of Holocaust related books ? even some rare volumes. Our library will soon be relocated at the Morgantown Public Library to allow greater circulation to the general public. Texts of strictly Jewish or religious content are at present still housed at the Center, as are magazines and periodicals related to Holocaust affairs or of Jewish concern.
For more information, you can contact the Center at treeoflifecong@gmail.com.