Adult Education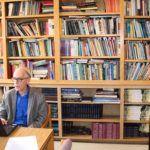 Adult Education is provided through several channels.  Try them all!
Distinguished Lecture Series:  Guest lecturers teach at the synagogue as the opportunity arises.  The next program is "WVU Medical & Dental Mission to Nicaragua" with young TOL member Daniel Berrebi, Tuesday, Aug. 22, 2017, 7:00 pm.
Rabbi at TOL:  Rabbi teaches at TOL on some holidays.  The next program is "Adam and Eve in Jewish Legend" on Yom Kippur, Saturday, Sept. 30, 2017, 2:30 pm.
Rabbi at OLLI:  Rabbi teaches at Osher Lifelong Learning Institute (OLLI) at WVU in Mountaineer Mall, 5000 Greenbag Road.  Typically there is a spring course and a fall course, six weekly two-hour sessions each.  The next program is "Jewish Values from Bible to Buber," tentatively on Wednesdays, Oct. 4 – Nov. 8, 2017, 10:00 am.
Rabbi & other clergy at GMIA:  Rabbi and other clergy teach at Greater Morgantown Interfaith Assoc. (GMIA) at different venues.  The next program is "Adam and Eve in Three Faith Traditions," Sunday, Oct. 8, 2017, 4:00 pm, at First Presbyterian Church, 456 Spruce St.
Rabbi at Mountainlair:  Rabbi teaches at the Mountainlair on the WVU campus by invitation from various groups.  The next program is "Multicultural Panel Discussion," tentatively on Tuesday, Nov. 7, 2017, 6:30 pm.
Please note, classes at remote locations can be reprised at the synagogue if there is demand.