Adult Education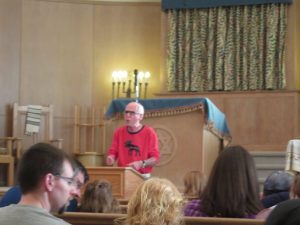 Adult Education is provided through several channels.  Try them all!
•   Distinguished Lecture Series:  Guest lecturers present at the synagogue as the opportunity arises.  The next program is "Field Notes from Grief the First Year" a book written by Judith Gold-Stitzel, Tuesday, April 24, 2018, 7:00 pm.  Please check here for additional events:  TOL Calendar
•   Rabbi at TOL:  Rabbi teaches at TOL on some holidays.
•   Rabbi at OLLI:  Rabbi teaches at Osher Lifelong Learning Institute (OLLI) at WVU in Mountaineer Mall, 5000 Greenbag Road.  Typically there is a spring course and a fall course, six weekly two-hour sessions each.  The next program is "Dysfunctional Families of the Hebrew Bible" Thursdays 1:00 – 2:50 pm starting April 12th.
•   Rabbi & other clergy at GMIA:  Rabbi and other clergy teach at Greater Morgantown Interfaith Assoc. (GMIA) at different venues.
•   Shavu'ot:  We have a late-night event of learning and Tikkun Leil (celebration).  Please join us on Friday evening May 18, 2018.  Got something to teach?  Please let us know!
Please note, classes at remote locations can be reprised at the synagogue if there is demand.