Adult Education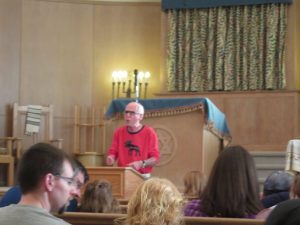 Adult Education is provided through several channels. Try them all!
Following are various adult education opportunities, please check here for upcoming events: TOL Calendar
• Distinguished Lecture Series: Guest lecturers present at the synagogue as the opportunity arises.
• Rabbi at TOL: Rabbi teaches at TOL on some holidays.
• Rabbi at OLLI: Rabbi teaches at Osher Lifelong Learning Institute (OLLI) at WVU in Mountaineer Mall, 5000 Greenbag Road. Typically there is a spring course and a fall course, six weekly two-hour sessions each.
• Rabbi & other clergy at GMIA: Rabbi and other clergy teach at Greater Morgantown Interfaith Assoc. (GMIA) at different venues.
• Shavu'ot: We have a late-night event of learning and Tikkun Leil (celebration) each year.
Please note, classes at remote locations can be reprised at the synagogue if there is demand.