Children's Education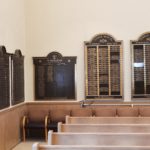 The Tree of Life  religious school has a three-year spiral curriculum.  That is, we rotate from year to year among three overarching themes: Jewish stories (sacred text), Jewish values (observances both ethical and ritual), and Jewish journeys (history).  By the time we complete the three-year cycle and return to a particular topic, each child has reached a higher developmental level and is able to appreciate the material in a new way.
In the 2016/17 Sunday School year, the morning (religious) program is 10:00 am – 12:00 noon and serves ages 3-13.  The afternoon (Hebrew) program, 12:15-1:15 pm, is recommended for second grade and up.
Please check the TOL calendar for more dates and events.