Hadassah
Hadassah Book Brunch June 2018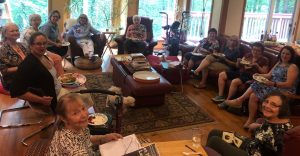 Hadassah members from the Tree of Life shared their summer book reading tips at a tasty brunch June 10 hosted by Monique Gingold.  See their reading recommendations below:
2018 Hadassah Book List
Author
Title
Recommended by
Isabel Allende
In the midst of Winter
Sylvia
John Grishman
Gray Mountain
  "
Celeste Ng
Little Fires Everywhere
  "
The Last Days of Night
Graham Moore
  "
Isabel Allende
Zorro
Sherry
Isaac Bashevis Singer
Gimpel Allende
   "
Muriel Berbery
The Elegance of the Hedgehog
   "
Stacy Schiff
Vera:  Mrs. Vladimir Nobokov
Lee
Peter Galison
Einstein's Clocks, Poincare's
  "
https://link.springer.com/book/10.1007/978-3-319-51664-6
One Hundred Years of Chemical Warfare
   "
Richard B. Goldschmidt
In and Out of the Ivory Tower
    "
Cecil Roth
Personalities and Events in Jewish History
   "
Eric Ashby
Scientists in Russia
   "
Elizabeth Lesser
Marrow
Ruth
Sonja Lyubomirsky
The How of Happiness
   "
Kristin Hannah
The Great Alone
Merle
M.L. Stedman
The Light Between the Oceans
Cindy
John Temple
American Pain
   "
Salman Rushdie
Golden House
Monique
Tana French
The Likeness/In the Woods
   "
Amor Towles
Gentleman in Moscow
   "
F.X. Toole (wrote Million Dollar Baby)
Pound for Pound
Eleanor
Michael Krasny
Let There be Laughter
   "
Daniel Silva
The Other Woman
   "
Daniel Silva
House of Spies
   "
Dan Brown
Origins
   "
Catherine Coulter
Any of her mysteries!
Judy
Barbara Delinsky
Any of her books
   "
Liz Murray
Breaking Night
Cindy
Paula Hawkin
Girl on the Train
   "
Jamie Ford
Hotel on the Corner of Bitter & Sweet
   "
E Larson
In the Garden of Beasts
   "
John A. Crowe
SPAIN: The Root and the Flower
Monique
NETFLIX RECCOMENDATION
Harlan Coben
SAFE
Laura
Join Hadassah
If you are interested in joining Hadassah or being added to the email list for announcements of future programs, please contact Sylvia Cooper at admin@etzhaim.org.